The highest impact per employee and for the organization as a whole
Personalized 1:1 programs with a Growthspace expert are the most effective way to move the needle on any employee's goal. Now, you can make them available to every person in the organization.
Growthspace enabled us to launch hundreds of one-on-one programs simultaneously, with minimum effort. Their data-driven approach and ability to prove impact on business KPIs are unique in the space."
Director of Organizational Development
How it works
Defining the outcome employees need to achieve and accordingly, the skills they need to develop.
Matching based on the desired skills, background, and experts' expertise.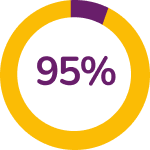 Short sprints guarantee 95% utilization and impact within 8-10 weeks.

Measuring against the predefined outcome via participants' and direct managers' feedback.
Pinpoint the exact outcome an employee needs to achieve
An incredibly granular skills taxonomy of 80+ areas of expertiseーfrom presentation skills and managing without authority to account mapping and running agile sprintsーlets you pinpoint the exact skills each employee needs to develop to achieve their specific goal. These skills drive the matching process and are measured after the program ends to evaluate success. It doesn't get any more accurate or efficient than that.
Get the best expert for the job
Based on an employee's selected skills, role, function, and industry, the AI-based matching algorithm combs through a pool of over 2,000 top-notch global experts with distinct expertise and proposes the top three matches. You can browse these experts' profiles, see their past ratings and reviews, and decide which is the best fit.
Short sprints guarantee 95% utilization and impact within 8-10 weeks
Employees meet their expert for a sprint-typically five one-hour sessions over 8-10 weeks. The short time frame promotes focus (so every session counts), drives high utilization (people show up), and means you can see (and present) results and impact within weeks (not months).
One size does not fit all
Employees have different needs, which should be addressed by different professionals. That's why we don't limit you to coaches, mentors, or trainers. We get you the best-fit expert on a case-by-case basis.
Coaches
ICF-certified coaches who specialize in power skills such as leadership, communication, and productivity.
Mentors
Executives with vast experience in specific roles and industries, who advise on best practices in their domain of expertise.
Trainers
Professionals with domain specialization who help employees develop specific skills like storytelling, sales, presentation, implementing agile processes, etc.
Working with Growthspace has opened up so many growth opportunities for us! We can address varied employees' development needs with personalized programs, no matter where they are. It's reassuring to know we have an array of ready-to-use talent development solutions to tackle any challenge and allow us to support and track progress for everything that happens worldwide. Growthspace ensures we deliver a quality learning experience to personalized needs quickly."
Nir Tidhar
Global L&D Director at Cognyte
Frequently asked questions
How do I know your experts will deliver?
All experts go through a rigorous screening process, in which we verify their credentials and our top experts interview them on their specific area of expertise. But the real validation relies on customer reviews. Experts are rated by customers after each engagement, and their ranking affects their likelihood of being matched. If their ranking goes below 4/5, they're removed from our pool of experts. We can proudly say that customers rate our experts 4.8/5 on their ability to deliver results.
Are five sessions enough to see real progress?
Yes! To get employee development right, you need focus. That's why we offer five-session sprints, which we found to be the most effective at achieving a well-defined goal. It's important to say that what participants get is proportional to what they put in. The experts guide and provide resources, but it's up to participants to put what they learn into practice.
What skills can employees work on?
Growthspace offers a network of over 2,000 experts with 80+ areas of expertise. Some of the most popular skills are leadership, communication, career planning, productivity, management, client management, and best practice exchange, but there are many (many) more to choose from.
What's the time commitment required from participants?
A program typically consists of five one-hour sessions over 8-10 weeks. After each session, experts provide resources or assignments that take up to 30 minutes. We also ask participants to provide feedback at the mid-point and end of the program. All in all, it's a focused program with a limited time commitment.