Let's get your people growing
You know employee development influences business performance. Now it's time to show the rest of your organization how – with Growthspace's high-impact employee development programs
We fundamentally believe that employee development is a critical business function
If you want your business to advance, you need to help each and every employee and function advance, too. Growthspace empowers you to do that with employee development that is personalized, measurable, scalable – and proven to drive business growth.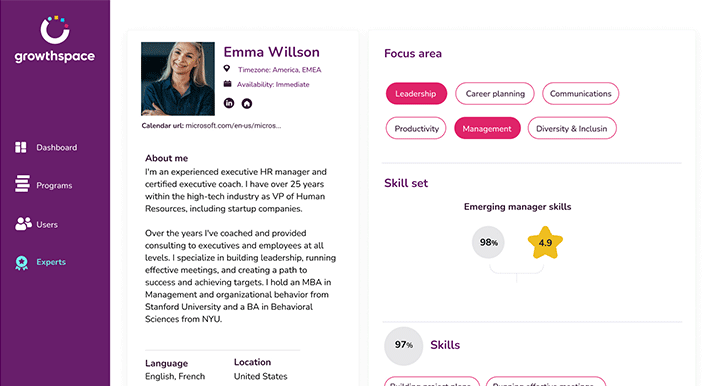 See it in action >
How it works
Define
your L&D goals
Build
growth programs & match experts
Measure
L&D impact on organizational performance
Drive employee engagement
Increase business performance
Discover the impact of Growthspace
Growthspace's most popular programs, with proven results from hundreds of customers
Growthspace programs
Growthspace most popular programs, with proven results from hundreds of customers
Paving the way for employee growth
When you look at Growthspace relative to all the other learning platforms in the market, what's unique here is what I call this new generation of mastery platforms…we're really excited about what Growthspace is trying to do here – to break the mold and build this entire solution.
Josh Bersin
Founder & CEO, The Josh Bersin Company
Growthspace has truly helped us address our employees' development needs with personalized programs, no matter where they are in the world. It's reassuring to know we have an array of ready-to-use talent development solutions that can tackle any challenge and assure we hit our business KPIs. Not to mention, the platform is easy to use and navigate. From an admin perspective, my team can manage everything within the GrowthSpace platform and can easily allocate talent development resources according to our changing needs, which is critical in these dynamic times.
John Gilleeny
Sr. Director of Global Talent & Learning, Zoominfo
Growthspace enabled us to launch hundreds of 1-on-1 programs simultaneously, with minimum effort. Their data-driven approach, and ability to prove impact on business KPIs are unique in the space.
Nir Tidhar
Global L&D Director Cognyte
What's new at Growthspace
There's a lot riding on professional development skills. They are necessary for…
Learn more

: Professional Development Skills: The Essential Guide for Today's Workplace